Residents can request two verge collections each financial year. This could be for household or green waste. Additionally, up to three mattresses can be pre-booked for collection.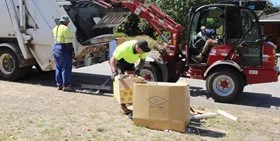 Book or change a verge collection
Before booking a verge collection, consider whether items could be donated, sold or recycled.
Donate
Charities and op shops are very grateful to receive good quality items. Many will even collect it for free. Items that can be donated include furniture, white goods, electrical items, homewares, toys, clothes, sports equipment and books.
Reuse
Gumtree and Facebook buy nothing groups are great ways to give your items a new home. You might even make some cash.
Recycle
There are many recycling services in Swan, many are free to residents. View recycling options.
Before booking a collection, please refer to the Terms and Conditions outlined on this page.
It is very important to correctly select the types of items that will be put out when you complete your booking. If you do not do so, some of your items may not be collected.
Note: rural properties cannot book verge collections. These properties are given a trailer (tip) pass instead. However, you can still book a mattress collection.
To change your booking, please make edits through the below link at least eight days before your scheduled collection. If you have any questions about making changes, please contact us.
To cancel your booking, please contact us.
Household
Accepted
Not accepted

Furniture (no glass)
Bicycles
Toys
Small electrical goods
Carpet and linoleum
Fencing materials (wood and steel only)
Wood (not garden waste)
Wire
Gates
Poultry webbing
Refrigerators
Stoves
Freezers
Clothes dryers
Air conditioners
BBQs (not gas bottles)
E-waste

Items longer than 1.5m
Household food wastes
Paint
Vehicles, car bodies and car parts
Tyres
Batteries
Asbestos products
Flammable liquids
Building materials
Bricks, rubble and concrete
Glass panels (e.g. table tops, window panes)
Gas bottles
Super 6 or fibre cement sheets
Anything included as part of a green waste collection
Mattresses will only be collected as part of a pre-booked mattress collection
Green waste
Accepted
Not accepted

Organic garden waste
Tree branches
Twigs

Items larger than 1.5m long or 300mm wide
Plastic bags
Large tree stumps (must be cut into smaller pieces)
Rocks, bricks and rubble
Dirt, soil and sand
Household refuse
Building materials
Lawn turf
Asbestos products
Anything included as part of a Household waste collection
Fencing materials, flower pots, garden hoses and chemically treated/painted/stained timber will be collected as part of a household bulk waste collection
Up to three mattresses can be collected each financial year. This could be arranged as one collection (with three mattresses collected at once) or over multiple collections (up to three).
Mattress collections do not count towards your two household verge collections. However, you will also need to arrange a household collection if you need us to collect a bedframe or mattress base.
Place items on your front verge, side verge or in a laneway (we do not collect from vacant blocks, parks or reserves)
Do not obstruct the footpath, your normal bin service or the line of sight for motorists
We will not collect items placed against walls, fences, poles, trees, sprinklers or utilities
Put your items out by 6am the day of your collection
Do not put items out more than two days prior to your collection, this could result in an infringement
Ensure that your pile is no larger than three cubic metres in size
Do not leave items not intended for bulk collection on the verge
Separate waste into piles according to the type of waste it is.