The City improves streetscapes by planting and maintaining trees that provide shade, improve air quality and offer habitat and food for native animals.
Street trees
At the City, we are responsible for the pruning and maintenance of trees that are located on the verge to minimise hazards, improve street presentation and ensure their long-term survival.
Please do not prune the trees yourself. We regularly undertake programmed maintenance of street trees but if you believe a tree needs pruning, please lodge a request.
The City has guidelines(open in new window) designed to assist with inquiries about tree protection, planting, pruning, removal and maintenance. Please check these guidelines for more information on what is permitted to be grown on street verges.
Street trees are a valuable asset to the community and the removal of any tree must be approved by the City. Please do not remove trees yourself.
Street trees may be removed if they are:
dead or diseased and beyond remedial treatment
posing a risk to public and property safety
affected by public works and every option for preventing loss of the tree has been investigated without practical solution.
A tree will not be removed because of:
the obstruction of scenic views
a dislike of the species or its growth habit
leaf, fruit or bark shedding is causing a nuisance
a species being considered inappropriate to its location
an existing tree is in the way of, or within close proximity to a driveway crossover, unless there is no alternative
existing trees are in the way of, or within close proximity to a second or additional crossover.
In most cases, when a street tree is removed, we will request a suitable replacement tree be planted in its place.
For more information about street tree removal, please see the City's Guidelines for Tree Protection, Planting, Pruning, and Removal and Maintenance.(open in new window)
The City's approval is required for all tree plantings on City land including those undertaken by developers, residents, community groups, City staff and/or by contractors on behalf of the City.
We receive requests for street trees throughout the year and planting is completed in winter. Requests are assessed against parameters such as available space, suitable species, existing themes, customer's requirements and soil conditions. Should requests exceed the available budget, customers will be waitlisted for the following year.
If you wish to plant a tree view our tree planting guidelines and contact us.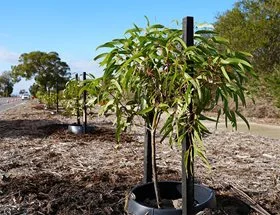 Urban Forest Plan
Trees provide an important service in urban areas due to their ability to absorb carbon and purify the air that we breathe. They also help to cool outdoor spaces, particularly in heat-absorbing paved areas. Trees and other vegetation have a significant role in providing amenity, liveability, habitat for biodiversity and in supporting mental wellbeing for our community.
The Urban Forest Plan represents an integrated approach to supporting and enhancing our urban forest within the City's operations and in the wider community. This plan seeks to provide healthy and diverse landscaping on public and private land supporting biodiversity, preserving natural amenity and protecting valuable natural plant resources as the region develops.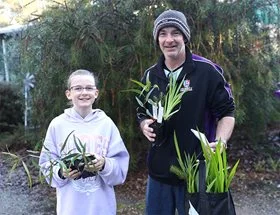 Free trees and plant giveaways
In 2023, the City of Swan gave away free trees and plants to 5,000 residents.
Due to overwhelming demand our 2023 supply of trees and plants was exhausted. We are already planning for the 2024 free tree giveaway!
Residents can also collect up to half a cubic metre of free mulch from the Recycling Centre - Bullsbrook. This equates to a 6 x 4 trailer load. Free mulch is subject to availability.