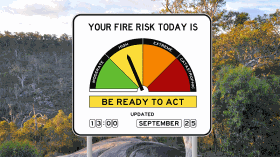 Fire danger ratings
Fire danger ratings are calculated daily by the Bureau of Meteorology and describe the level of danger should a bushfire start. It is calculated using a combination of forecasted weather conditions and local vegetation types.
City of Swan is located within two fire rating districts:
Swan Coastal North
Swan Inland North
Fire danger ratings are also available on Emergency WA Warnings and Incidents and Bureau of Meteorology weather forecasts.
Fire Safety Bans
Total Fire Bans or Harvest and Vehicle Movement Bans are declared on days when the likelihood of certain activities starting a fire is significant, control of a fire is likely to be difficult, or firefighting resources are already stretched. Both bans are often in effect at the same time, but this is not always the case.
When a ban is in effect it is illegal to carry out activities prohibited under that ban. The responsibility remains on the individual to find out if a ban is in effect prior to carrying out these activities. Significant penalties apply should you ignore or commit and offence in relation to a fire ban.
Total Fire Bans prohibit lighting fires in the open air or conducting an activity likely to start a fire.
Prohibited activities include, but are not limited to:
Cooking outdoors with coal, wood or other solid fuels. Outdoors includes under verandas and patios.
Operating vehicles or plant equipment over any type of vegetation, dead or alive. This includes off-road driving, mowing, and clearing land.
Undertake 'hot works' such as welding, grinding or activity that may cause a spark or ignition.
You may continue to:
Use a gas cooker or gas barbeque with an enclosed flame on your own property or in a public recreational area designated for that purpose.
Undertake essential feeding and watering of stock.
Use electrically powered mowers, chainsaws, line and hedge trimmers, and similar plant, but not where such use may cause sparks e.g. mowing where rocks are present.
Smoke cigarettes, provided cigarettes or cigars are properly extinguished and discarded.
Business, public authorities and commercial industry may be able to undertake certain prescribed activities or apply for an exemption under the Bush Fires Regulations 1954, provided they advise DFES and meet certain conditions(open in new window).
Harvest and Vehicle Movement Bans prohibit the use of combustion engines over any type of vegetation, dead or alive. A Harvest and Vehicle Movement Ban is only declared for the most high-risk hours of the day, and as such the applicable hours will vary subject to weather conditions.
No exemptions are available for Harvest and Vehicle Movement Bans, however electrically powered machinery may be used if the activity they are performing has no risk of causing sparks, such as mowing over rocks.
To find out if a Harvest and Vehicle Movement Ban has been declared:
Call the City of Swan Fire information line on 9267 9326
Look for the alert at the top of the City of Swan website pages
Listen to ABC local radio during scheduled Harvest and Vehicle Movement Ban announcement times.
Firebreaks and hazard reduction
Firebreak installation and hazard reduction is a legal requirement that is outlined within the City of Swan Fire Hazard Reduction Notice.
Property owners are therefore required to ensure that their properties comply with all requirements within the Annual Firebreak notice from November 1 with standards maintained until April 30 the following year. Property owners that do not comply with the City of Swan firebreak requirements may be infringed, or hazard reduction work may be carried out by the City of Swan at the property owner's expense.
Alternative firebreaks
If it is impractical for you to install firebreaks along all or parts of your internal boundaries, you may request permission to install a firebreak in an alternative location or of a different nature. Your request must be received by October 1 to be considered.
Please complete the alternative firebreak application form(open in new window) and submit it to swan@swan.wa.gov.au.
Fire hazard advisory service
The City of Swan has a dedicated Fire Hazard Inspection Officer who can come to your property and help you develop a plan to manage the risk on your land. This officer can assist you with:
Managing the fuel load around your home (Asset Protection Zone)
Developing a staged plan for fuel management on your property including safe hazard reduction burning and mechanical vegetation management
Understanding firebreak requirements and placement, prior to formal inspections
Understanding important information that assists in developing your household's bushfire plan.
Please note, this service is reserved for rural properties in fire-prone areas. For more information, please contact (08) 9267 9022.
Bushfire Advisory Committee
The Bush Fire Advisory Committee advises the City on bushfire matters such as prevention, preparedness and response.
The Committee consists of the following representatives/officers:
Council Representative/s
Deputy Delegate Councillor/s
Chief Executive Officer (or delegate)
Manager Community Safety
Coordinator Fire and Emergency Management
Chief Bush Fire Control Officer
Volunteer Deputy Chief Bush Fire Control Officers
Volunteer Brigade Captains (or delegates)
Volunteer Local Government Fire Training Coordinator
Department of Fire and Emergency Services
Department of Parks and Wildlife Meetings
Residents and community members are welcome to attend committee meetings, which are held in the Council Chambers at the Midland Town Hall commencing at 6.00pm and are held on every second Thursday of the 3rd month (except December).
Future dates
Bush Fire Control Officers
It is hereby advised that the following persons are appointed as City of Swan Bush Fire Control Officers under the Bush Fires Act 1954, Part IV Division 1 Section 38.
Deputy Chief Bush Fire Control Officers
Sean Corbin (East Gidgegannup VBFB)
John Mangini (West Gidgegannup VBFB)
Rudolf James (West Swan VBFB)
Michael Teraci (West Swan VBFB)
Troy Miller (West Swan VBFB)
Bush Fire Control Officers
Marri Uusimaki (City of Swan)
Patrick Heydon (City of Swan)
Bradley McCarthy (City of Swan)
Darren Dove (City of Swan)
Jeremy Davies (City of Swan)
Rick Edwards (City of Swan)
Taleisha Geerlings (City of Swan)
Josh Tucker (City of Swan)
Trevor Hill (City of Swan)
Poonam Singh (City of Swan)
Aaron Bradshaw (City of Swan)
Lynn Sumners (City of Swan)
Courtney Colquhoun (City of Swan)
Ian Welburn (City of Swan)
Magnus Ohman (City of Swan)
Debbie Screen (City of Swan)
Richard Daniel (City of Swan)
Evyn Johnson (City of Swan)